With a wide range of photo editing software available in the market, choosing the right one can be a daunting task. In this blog post, we'll take a look at the 3 best free photo editing softwares available today, and explore their features and functionalities to help you make an informed decision.
1.The GIMP
2. Pixlr
3. Paint.NET
The GIMP
GIMP is considered as the best photo editing software by many people. It's an acronym for GNU Image Manipulation Program and is a free distribution program for such tasks as photo retouching, image composition and image authoring.
It has many capabilities. We can use it as a simple paint program, an expert quality photo retouching program, an online batch processing system, a mass production image renderer, an image format converter, etc.
GIMP is expandable and extensible. It can help to be augmented with plug-ins and extensions to do just about anything. The advanced scripting interface allows everything from the simplest task to the most complex image manipulation procedures to be easily scripted.
GIMP is written and developed under X11 on UNIX platforms. But basically the same code also runs on MS Windows and Mac OS X.
Features and Capabilities
– Painting
+ Full suite of painting tools including Brush, Pencil, Airbrush, Clone, etc.
+ Sub-pixel sampling for all paint tools for high quality anti-aliasing
+ Extremely powerful gradient editor and blend tool
+ Supports custom brushes and patterns
– System
+ Tile based memory management so image size is limited only by available disk space
+ Virtually unlimited number of images open at one time
– Advanced Manipulation
+ Full alpha channel support
+ Layers and channels
+ Multiple Undo/Redo (limited only by diskspace)
+ Editable text layers
+ Transformation tools including rotate, scale, shear and flip
+ Selection tools including rectangle, ellipse, free, fuzzy and intelligent
+ Advanced path tool doing bezier and polygonal selections.
+ Transformable paths, transformable selections.
+ Quick mask to paint a selection.
– Extensible
+ A Procedural Database for calling internal GIMP functions from external programs as in Script-fu
+ Advanced scripting capabilities (Scheme, Python, Perl)
+ Plug-ins which allow for the easy addition of new file formats and new effect filters
+ Over 100 plug-ins already available
– Animation
+ Load and save animations in a convenient frame-as-layer format
+ MNG support
+ Frame Navigator (in GAP, the GIMP Animation Package)
+ Onion Skin (in GAP, the GIMP Animation Package)
+ Blue box (in GAP, the GIMP Animation Package)
 – File Handling
+ File formats supported include bmp, gif, jpeg, mng, pcx, pdf, png, ps, psd, svg, tiff, tga, xpm, and many others
+ Load, display, convert, save to many file formats
+ SVG path import/export
Download here: Download GIMP
Pixlr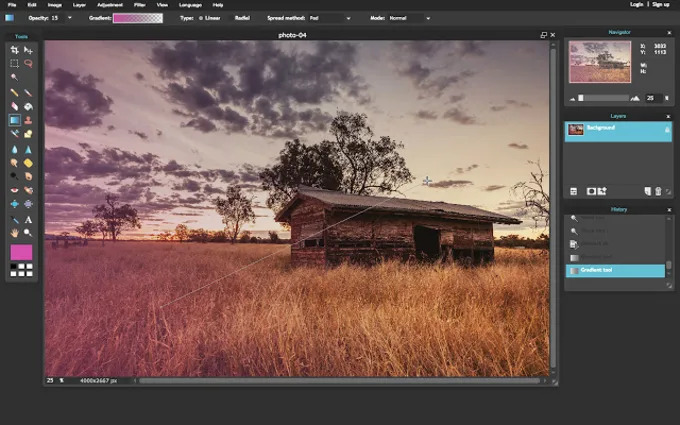 Pixlr is a powerful online photo editor that provides users with a wide range of features and capabilities to enhance their photos and create stunning visual content.
Features
Basic editing tools: Pixlr allows users to crop, resize, rotate, adjust the exposure, brightness, contrast, and saturation of their photos.
Advanced editing tools: Pixlr also offers advanced editing tools such as levels, curves, hue/saturation, and selective color, which allow users to fine-tune their photos with precision.
Filters and effects: It has a vast library of filters and effects that can be applied to photos to give them a unique look and feel. Users can choose from a variety of styles such as vintage, black and white, and pop art.
Layers and masks: Pixlr supports layers and masks, which allows users to edit and blend different elements of their photos separately, giving them more control over the editing process.
Text and graphics: It also provides users with the ability to add text and graphics to their photos, making it a great tool for creating social media graphics, posters, and flyers.
Collage maker: Pixlr has a built-in collage maker that allows users to combine multiple photos into a single image, with a variety of templates and layouts to choose from.
Browser-based: Pixlr is a browser-based application, which means users don't need to download any software to use it. Moreover, it lets us access from any device with an internet connection.
Website link: Pixlr
Paint.NET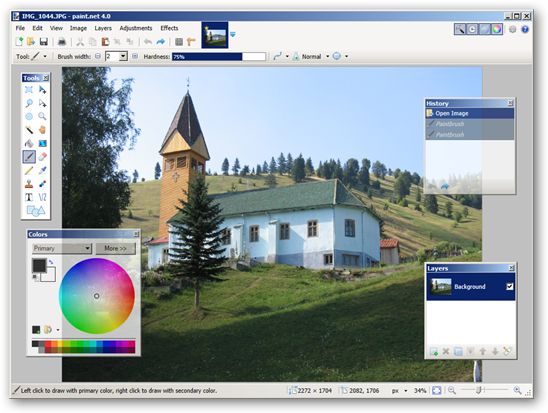 Paint.NET is image and photo manipulation software designed to be used on computers that run Windows 2000, XP, Vista, or Server 2003. It supports layers, unlimited undo, special effects, and a wide variety of useful and powerful tools.
It started development at Washington State University as an undergraduate senior design project mentored by Microsoft, and is currently maintain some of the alumni that originally worked on it. Originally intended as a free replacement for the MS Paint software that comes with Windows, it grows into a powerful yet simple tool for photo and image editing. The programming language used to create Paint.NET is C#, with a small amount of C++ for setup and shell-integration related functionality.
Features
Simple, intuitive user interface
Every feature and user interface element is immediately intuitive and quickly learnable without assistance. It is also immediately familiar to users of the original 'MS Paint' software that comes with Windows.
Layers
Usually only found on expensive or complicated professional software, layers form the basis for a rich image composition experience. You may think of them as a stack of transparency slides that, when viewed together at the same time, form one image.
Powerful Tools
Paint.NET includes simple tools for drawing shapes, including an easy-to-user curve tool for drawing simple splines or Bezier curves. The facilities for creating and working with selections is powerful, yet still simple enough to be picked up quickly. Other powerful tools include the Magic Wand for selecting regions of similar color, and the Clone Stamp for copying or erasing portions of an image. There is also a simple text editor, a tool for zooming, and a Recolor tool.
Unlimited History
Everybody makes mistakes, and sometimes changes their mind. To accommodate this, every action you perform on an image is recorded in the history window and may be undone. Once you've undone an action, you can also redo it. Available disk space limit the length of the history.
Special Effects
Many special effects are including for perfecting your images. Everything from blurring, sharpening, red-eye removal, and embossing are included. Also included is our unique 3D Rotate/Zoom effect that makes it very easy to add perspective and tilting.
Adjustments also help you tweak an image's brightness, contrast, hue, saturation, and levels.
Language Packs
Chinese Simplified, Chinese Traditional, Czech, Dutch, Finnish, French, Frisian, Hungarian, Italian, Japanese, Polish, Russian, and Spanish.
Download here: Download 
Contact us if you have any questions.
Website: https://vincentcolor.com
Email1: Contact@vincentcolor.com
Email2: Cs@vincentcolor.com