The world of photography has seen some notable innovations over the years, from bulky film cameras to the sleek digital devices we carry in our pockets today. But the development of photography does not stop there. In 2023, we find ourselves at the intersection of technology and fashion, with the advent of photography glasses. These sophisticated, stylish eyewear options have taken the photography world by storm, allowing you to capture life's moments from your perspective.
In this blog, we'll explore the best camera glasses of 2023, highlighting their features, functions and why they're a must-have for any photography enthusiast.
What are the Best Camera Glasses?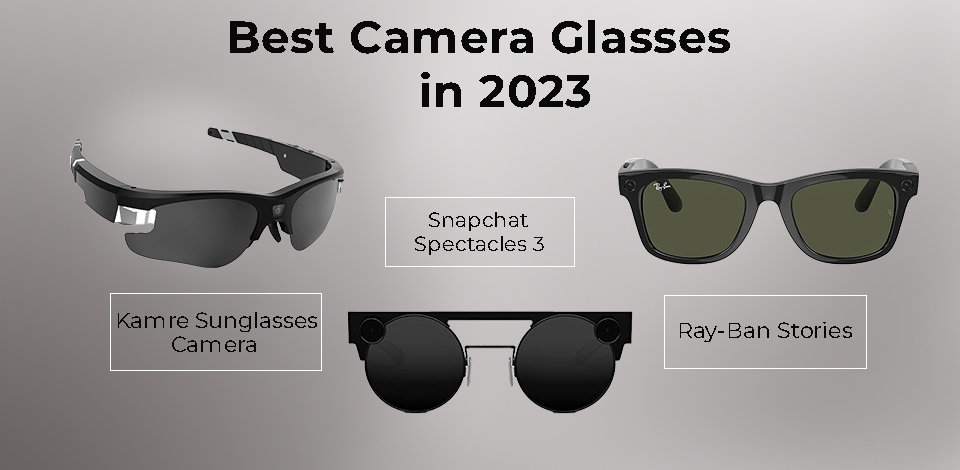 Camera glasses, also known as "smart glasses" or "video glasses", are wearable devices designed to capture realistic first-person photos and videos. These glasses often integrate a camera into the frame or lens and often come with a mobile app to make viewing and sharing recorded content easier. The best camera glasses seamlessly combine superior specs with user-friendly functionality and elegant aesthetics.
Below, you'll find a summary table showing our top seven camera eyewear picks. For more tips on choosing the ideal features, please refer to our comprehensive buying guide at the end.
5 Best Camera Glasses 2023
5. Kamre Sunglasses Camera
Full HD 1080p video resolution

65° wide-angle view

Easy 1-key operation

UV protection and durable rubber material

Stylish sunglasses design

View on amazon
The Kamre camera sunglasses have a unique design but are designed primarily for Full HD video recording with a one-button system. They can take still images but with reduced quality. The camera placement in the middle requires careful adjustment to avoid pointing downward.
These sunglasses use a microSD card, but their storage capacity is limited to 32GB, which isn't ideal for extended recording. While suitable for action and sports photos, a dedicated action camera like the GoPro8 may yield better results.
While affordable, there are better hands-free sports cameras out there. Adjusting parameters requires using a computer and editing the TXT file.
4. OhO 4K Ultra HD Camera Glasses
4K Ultra HD video and image stabilization

One-touch button operation

Video recording during charging

Impact-resistant lenses and frame

Waterproof feature (IP33 level protection)
The Oho Sunshine 4K camera glasses deliver top-notch video quality, offering 4K Ultra HD at 24fps or Full HD at 60fps as well as a 6MP camera for taking photos. Unlike some other options, these glasses store files directly on the device, with different storage sizes, including 32, 64, 128 and 256 GB versions.
These camera glasses feature image stabilization, which improves video quality, especially when walking. They are waterproof but not intended for underwater use. Microphone quality is decent but can be difficult in windy conditions. Additionally, the lenses do not provide sun protection but are interchangeable.
These glasses are recommended for those looking for the best image quality, although managing files and settings can be a bit difficult, involving manual file uploads and adjustments via file. TXT.
3. Sheawasy Camera Glasses
1080p HD recording at 30 fps

Discrete lens on the left side of the glasses

Eye-level shot for hands-free recording

Easy to use with 50-60 minute recording time

Supports up to 64 GB TF card (not included)
Sheawasy camera glasses are an affordable option, designed primarily for photography without the need for sun protection. They take photos and record Full HD 1080p video at 30 frames per second using the side buttons for operation. While the quality cannot be compared to that of a smartphone, the video and image quality are decent for their size.
The standout feature is the discreet camera, which makes it unobtrusive during normal use. They are ideal for hands-free video recording and basic surveillance, providing point of view (POV) for events or private investigators in the field.
These glasses use "tiny" memory cards, TF cards up to 64 GB (sold separately) for easy storage. Handling the TF card may require tweezers to ensure precision.
2. Ray-Ban Stories
Polarized lenses for clarity

Hyper-responsive touchpad

Built-in speakers for sound and voice control

Compact, portable charging case

Facebook View app to share stories and images
The Ray-Ban story represents the designer's approach to camera eyewear, combining stylish and practical nuances. These discreet glasses seamlessly integrate the camera into the frame, providing great sunglasses as well as camera functionality.
Image quality is comparable to Snapchat Spectacles 3, with a 5 MP camera to take photos and record HD video at 30 frames per second. Unique to Ray-Ban Stories, they feature a built-in speaker for calling, texting, and music control.
These glasses are connected to Meta, allowing easy management and sharing of photos on Facebook, Instagram and WhatsApp through the Facebook View app. You can edit and organize your media wirelessly while wearing the glasses.
Ray-Ban Stories is ideal for those who want to take easy photos that still look cool and casual. They also offer high quality polarized lenses but cannot provide prescription lenses without voiding the warranty.
1. Snapchat's Spectacles 3
3D photos and videos captured at 60 fps

3D effects and 3D viewing for creative reimagining

Built-in mics for excellent audio

Rechargeable on-the-go charging case

Share moments on Snapchat or export elsewhere
Our top pick is Snapchat's Spectacles 3, which offers the most comprehensive camera glasses experience available. These glasses have two cameras and four built-in microphones.
The most notable feature is the ability to take 3D photos and videos, supported by a 3D viewing option. While they aren't the highest image quality, they offer 5MP images and record HD video at an impressive 60 fps, the fastest on our list.
Snapchat AR filters enhance creative video sharing on social networks. You can easily stream videos wirelessly to your smart device through the Snapchat app for editing and filtering. Additionally, you can export them to other applications or to your computer. The glasses case also doubles as a portable charger.
Spectacles 3 are ideal for casual photographers looking to create fun images and videos for social media, making them ideal for travel photography, vlogging, and casual street photography with friends.
Contact us if you have any questions.
Moreover, Don't forget at VincentColor we provide Real Estate Photo Editing Service only from 0.5$
Website: https://vincentcolor.com
Email1: Contact@vincentcolor.com
Email2: Cs@vincentcolor.com