Many videographers and photographers find the viewfinder too small and decide to look for an external camera screen. Improved screen resolution and visualization greatly simplifies video and image capture routines.
However, screens come in multiple sizes, different brightness levels, monitoring tools, and more, so choosing the best model can be a hassle. In addition, the prices of on-camera screens vary greatly. 
Top 10 External Camera Screens
Those who want to turn their hobby into a professional activity should acquire an external camera screen to shoot sharp, creative, and professional videos. Also known as an external on-camera monitor, this add-on can be attached to both an action camera and a bulky still camera.
In this guide, we have rounded up the greatest models that can be connected to a camera using HDMI or SDI connections. The advantage of such monitors is that they feature larger screens in comparison to viewfinders of a standard camera. Moreover, they have higher brightness and better color reproduction.
Best choice for you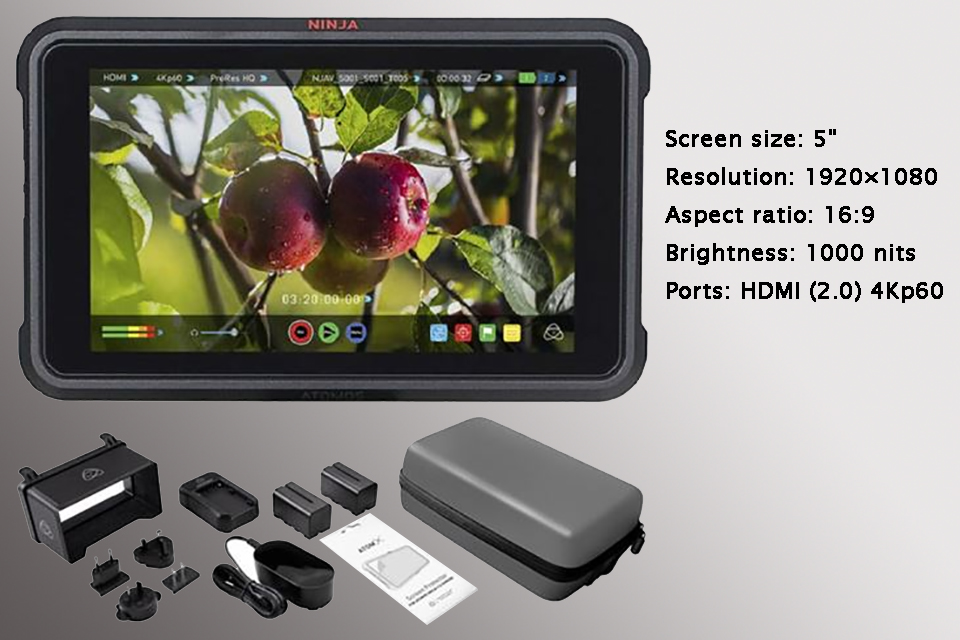 ✚ Embedded recorder and video player

✚ Small HDR screen

✚ Recording videos in RAW format

✚ Supporting many codecs

—Only touchscreen controls are available

$399.00

VIEW ON AMAZON

★★★★★ Rating 
The Atomos Ninja V lets you capture 4Kp60 10-bit HDR clips right from your camera's sensor using HDMI 2.0. Coupled with a 1TB Atom SSD mini, it can record 4K clips with a duration of up to 150 minutes.
The Ninja V can comfortably record at a 10+ stops range from Log/PQ/HLG signals in real-time. An anti-glare screen of excellent quality accurately represents images and makes them clearly visible even in the daylight. With a properly configured one-touch operation, you can get an excellent recording every time your turn your camera on.
Top-notch screen for pros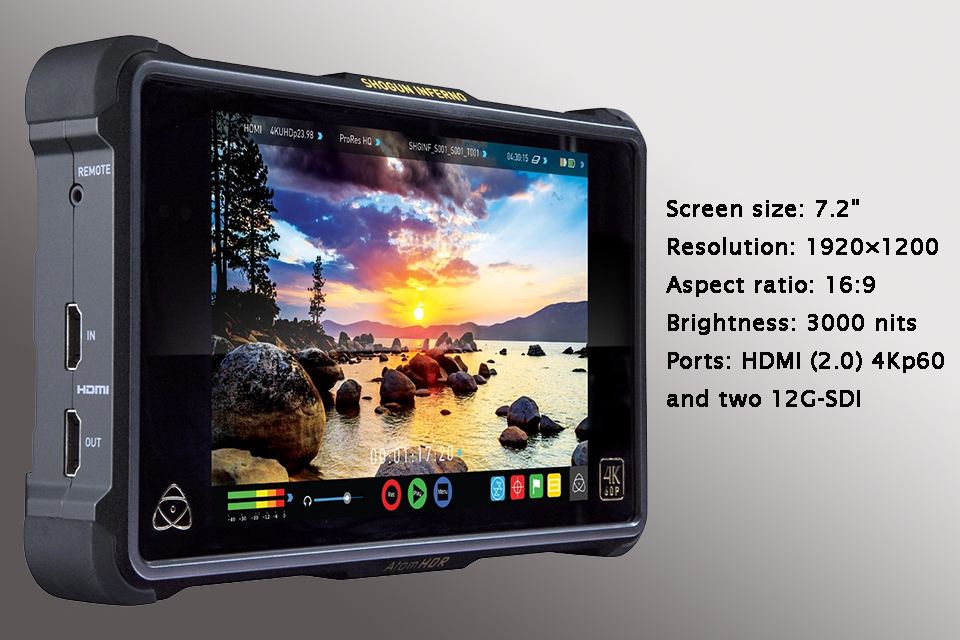 ✚ Fitted with an external recorder

✚ SDI I/O

✚ Dynamic 360-degree HDR zones

✚ ProRes RAW format support

—SSD drive is not included in the kit

$1300

VIEW ON AMAZON

★★★★★ Rating
The fans of the Ninja V will also like the Atomos Shogun 7 as these models are quite similar. The only considerable difference is that the screen size of the latter is 7 inches. The Shogun 7 is a perfect solution for pros who shoot with the best cameras. A variety of I/O ports also appeals to photographers. This camera monitor has an array of handy features that make the Shogun 7 ideal for capturing different events.
HDp60 SDI ISOs x 4 recording is another strong side of the Atomos Shogun. Besides, the recorded file can be exported in XML format.
Ergonomic and long-lasting screen at a moderate cost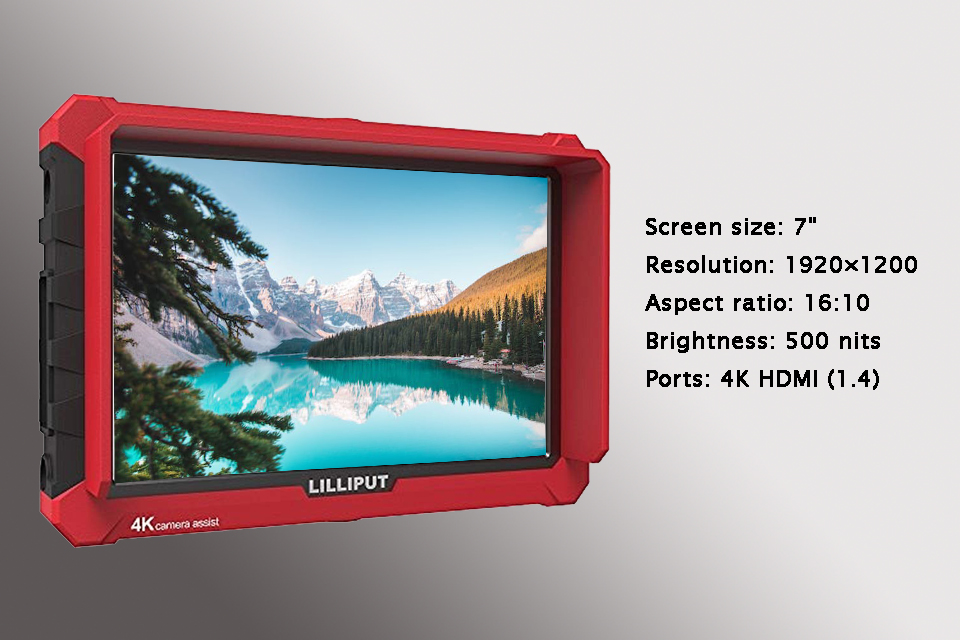 ✚ Top-rated display

✚ Comes with a Velcro sun hood

✚ Customizable controls

✚ Histogram and audio meter

—Brightness level could be higher

$159.00

VIEW ON AMAZON

★★★★★ Rating
The Lilliput A7S 7″ Full HD Monitor is one of the best monitors for cameras as it is packed with many top-notch functions available in more expensive premium models. The screen comes in an exquisite red rubber case. It is equipped with an HDMI 1.4 input, which allows to capture video and images in UHD 4K resolution,
Besides, the Lilliput A7S 7″ has some extra camera features for setting the exposure level, creating a histogram, etc.
Fantastic camera viewfinder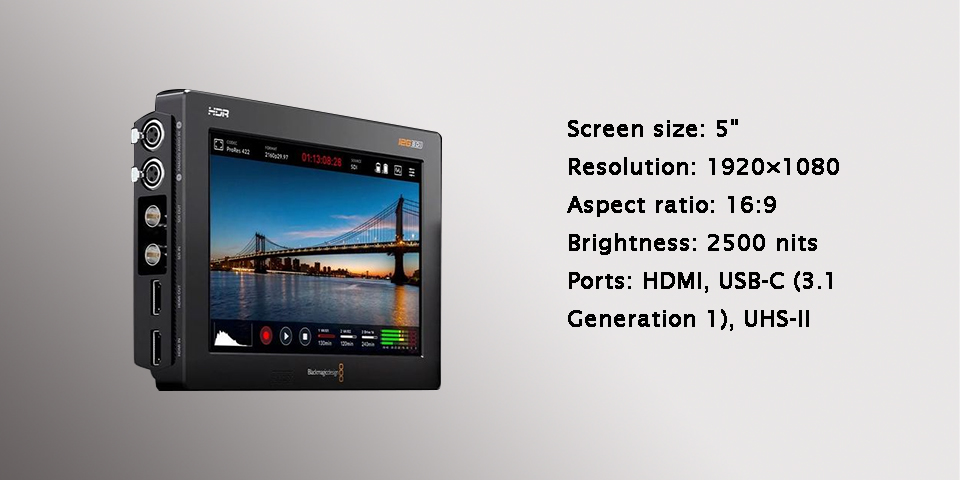 ✚ Cutting-edge focus assist

✚ RAW format

✚ Adjustable exposure

✚ Integrated SD card recorder

—Annoying reflections

$795.00

VIEW ON AMAZON

★★★★★ Rating
The Blackmagic Video Assist is an all-in-one solution for recording professional videos, which also serves as a portable monitor with OVF functionality. This model includes codecs, which lets you shoot clips of excellent quality. SDI and HDMI camera owners will enjoy top-rated record codecs.
Another argument in favor of the Blackmagic Video Assist is that it uses 12G‑SDI and Ultra HD HDMI connections and supports a variety of formats. Besides, it comes with an LCD with vibrant colors.
Excellent image quality in direct sunlight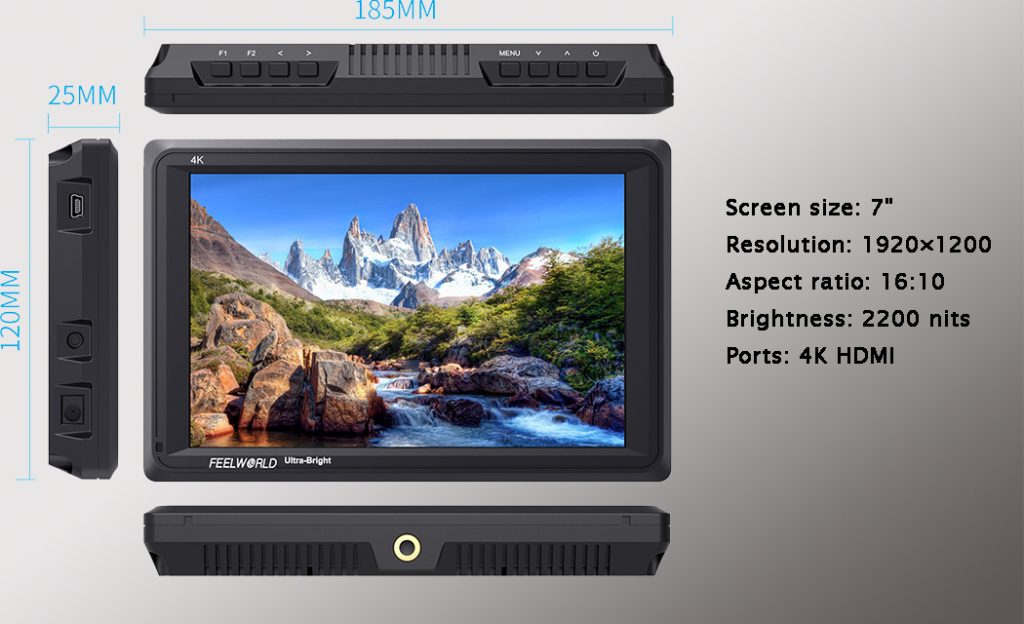 ✚ Integrated speakers

✚ Customizable options

✚ Peaking focus assist

✚ Ultra-thin construction

—Lack of touch options

$259.99

VIEW ON AMAZON

★★★★★ Rating
The Feelworld FW279 is an external camera screen fitted with a 323 PPI IPS LCD and Loop-Through HDMI for videos of the highest resolution. Besides, it comes with an IPS LCD of excellent quality, which allows you to see clear images even when looking at the screen at an angle. It doesn't have any issues with contrast or colors.
Moreover, the monitor has an array of features for checking the quality of a picture. These are tools for analyzing the exposure (a histogram, false colors, zebras), options for evaluating focus (peaking and magnification), and features for making sure that an image is properly framed (markers).
Optimal choice for vloggers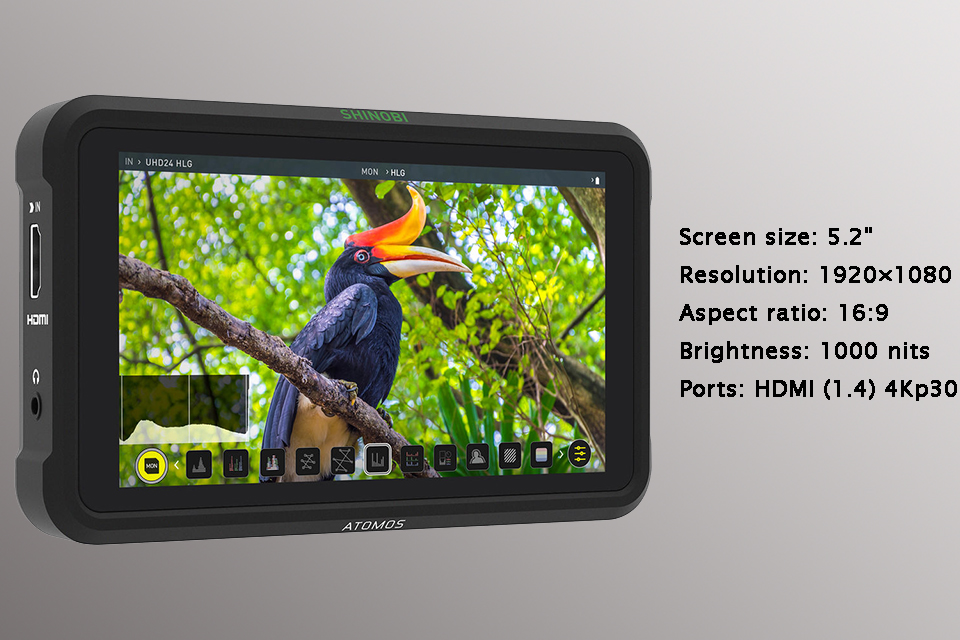 ✚ Allows previewing LUTs in real-time

✚ High-definition screen

✚ Mirrors images when making selfies

✚ Long-lasting battery

—Plastic construction

$299.00

VIEW ON AMAZON

★★★★★ Rating
Developed by Atomos, the Shinobi is a compact on-camera monitor with a variety of top-notch features. The most appealing aspect for photographers is a bright screen with HDR capability for seamless filmmaking and photography experience. A durable battery, which provides the necessary power for the device to run all day long is no less important.
You can see clear images even in daylight thanks to a 5"10-bit HDR or SDR screen. Another considerable advantage is the Anti-Reflective coating. Anti-fingerprint technology guarantees that your device will stay clean and neat.
Tilt arm for better flexibility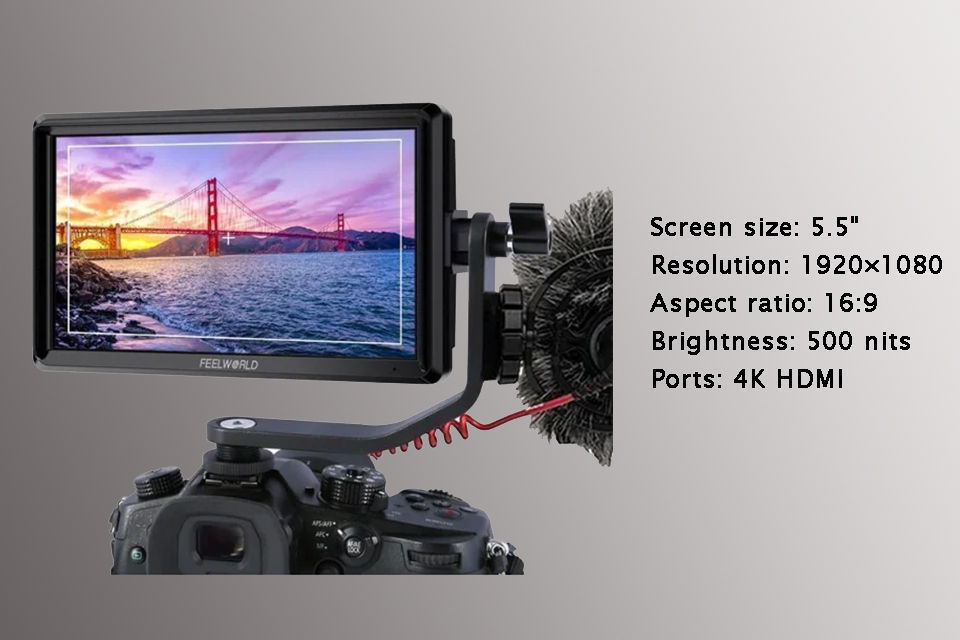 ✚ High quality at a moderate price

✚ Adjustable battery plate

✚ Equipped with a tilt arm

✚ Expert monitor calibration

—Plastic case

$148.00

VIEW ON AMAZON

★★★★★ Rating
The Feelworld FW568 is one of the most popular monitors for cameras that lets you see large, clear pictures with vibrant colors. Besides, it provides a 160º viewing angle in both vertical and horizontal directions.
Fitted with one removable 1/4 screw, the FW568 can be mounted at the bottom or side. Many photographers prefer installing a camera on a handheld stabilizer, whereas other shooters want to use a screen as a high-definition viewfinder attaching it to the top of a camera. The latter option is less reliable.
The DC output port allows you to power your camera from an NP-F L-series or LP-E6 battery attached to the monitor. It enables you to use your shooting device longer than most mirrorless or DSLR cameras.
The above external camera screens has been referenced by us from other photographers like our experience to help you make the best comparison. Consider and choose for yourself the most suitable external camera screen.  
Contact us if you have any questions.
Don't forget at VincentColor we provide Real Estate Photo Editing Service only from 0.5$
Website: https://vincentcolor.com
Email1: Contact@vincentcolor.com
Email2: Cs@vincentcolor.com