In the fast-paced world of photography, capturing the perfect shot often requires agility, precision, and quick access to your camera. Whether you're a seasoned professional or an enthusiastic amateur, having the right hand grip camera strap can make all the difference in ensuring your gear is safe and ready when you most needed.
As 2023 approaches, the world of camera accessories has evolved, offering countless camera straps designed to meet the needs of every photographer. In this blog post, we'll explore the best hand grip camera strap designed to redefine your photography experience this year. Say goodbye to discomfort and missed moments: it's time to discover the perfect companion for your photography adventures.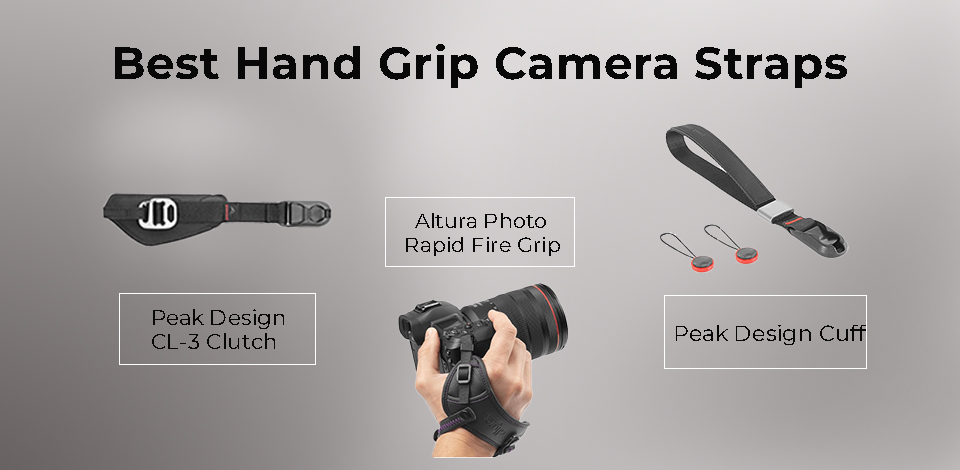 7 Best Hand Grip Camera Straps in 2023
1. Peak Design CL-3 Clutch Camera Hand strap
Our Choice
Quick-connecting and quick-adjusting for total security

Ultra-durable Hypalon, microfiber, and aluminum hardware

Compatible with any DSLR and most Arca-Swiss tripod heads

Works by itself or with the Peak Design Capture Camera Clip
The Peak Design CL-3 Clutch, a top choice for photographers, combines quality, affordability and functionality. It ensures camera security, supporting all DSLR and mirrorless camera models. Its anchors can support up to 200 lbs and the durable hypalon fabric provides comfort.
The aluminum adjuster provides control and is compatible with Nikon, Canon and Pentax cameras. This versatile wrist strap improves control for different photography styles, including portraits, landscapes, and street photography.
2. Altura Photo Rapid Fire Grip
Best for Full Frame Cameras
Secure metal mounting plate also compatible with the Altura Photo Rapid Fire Neck Strap

Grips the hand and wrist to prevent accidental slips

Compatible with any DSLR or mirrorless camera with a standard ¼" tripod screw mount

Relieves hand fatigue by equally distributing the weight
The Altura Photo Rapid Fire Grip prioritizes comfort and control over stealth. Compatible with major camera brands such as Sony, Nikon, Canon, Olympus and Fujifilm, it suits all photography styles. With large padded hands and a wrist strap for added security, it provides a secure grip once adjusted.
The attachment includes two connectors: one for the hand grip camera strap ring and one for the tripod, ensuring the safety of the camera. This versatile and affordable strap is aimed at a variety of photographers, whether they use mirrorless or DSLR cameras, making it a valuable addition to any camera bag. .
3. Peak Design Cuff Camera Wrist Strap Black
Best Wrist Strap
Total peace of mind and low profile

Quickly and securely connects to any device

Magnetic wrist loop and bracelet storage

All-custom aluminum hardware and ultra-soft nylon
The Peak Design Cuff Strap offers a simple, practical solution for small cameras. Made from durable nylon with a comfortable weave, it minimizes chafing during extended use. Adjusting strap size is easy with the slider, and the padded leather improves durability and comfort.
Secure your camera with abrasion-resistant anchors that support up to 200 lbs of weight, although they are best suited to APS-C compact and mirrorless cameras. Ideal for street and travel photography, its compact black design remains discreet while providing the ability to quickly move the camera for spontaneous shots.
4. VKO Camera Wrist Strap
Best for Street Photographers
Simple and stylish design

Leather hoop for adjusting tightness

Weighs next to nothing and fits in your pocket

A great choice for film cameras
VKO Camera Wrist Straps offer a sleek, lightweight option that complements any camera, especially compacts or 35mm film cameras. Weighing just 0.5 oz (16 g), it's easy to carry and made from soft nylon for friction-free comfort. The strap can support slightly heavier cameras like the Canon AE-1 and has a leather buckle for added security. Affordable and suitable for street photography, this is a practical addition to any photographer's equipment collection.
5. USA Gear Professional Camera Grip
Best Value Hand Grip Strap
Thick wrist support strap for more security

Quick-release buckle for easy connecting and disconnecting

Tripod mount connector

Affordable price tag
USA Gear Professional Camera Grip offers safe camera handling at an affordable price. While not the sleekest, it offers exceptional support and uses a two-point connection system for added stability. Screws connect the bottom to the tripod for added security. With hand strap and comfortable wrist support, it improves shooting comfort and weight distribution. Suitable for full-frame DSLRs and mirrorless cameras, it provides solid support at an affordable cost.
6. JJC Pro Hand Grip Strap
Best for Mirrorless Cameras
Secure your camera with extra security to prevent accidental slipping

Adjustable length provides perfect fit for any hand size

Flexibility with metal base plate and Arca-Swiss design

Comfortable with padded hand cushion and air holes for breathability
The JJC Pro Hand Grip Srap prioritizes function over fashion, making it a great choice for mirrorless cameras, especially Sony, Panasonic, Fujifilm and Olympus models. Its padded padding ensures a comfortable and secure fit, even with heavy equipment, and the adjustable wrist strap provides added security.
The padded wrist strap prevents scratches and the Arca-Swiss quick-release base plate securely mounts your camera, making it compatible with travel and heavy-duty tripods. This strap delivers reliable performance for mirrorless camera users.
7. AQAREA Camera Wrist Strap
Best for Casual Photographers
Genuine parachute rope strap

Simple and effective design

Excellent quality for a low price

Perfect for smaller cameras
AQAREA Camera Wrist Straps are a great choice for casual photographers looking for simplicity, style, and affordability. Made from sturdy parachute cord with a metal wrist adjustment ring, it takes advantage of the camera's weight for added safety. This lightweight yet sturdy strap is suitable for both full-frame and compact cameras, making it a reliable choice. With different color options and a unique, secure design, it ensures you always keep the camera in your hand when shooting.
FAQs on the Best Hand Grip Camera Strap
Is a Hand Grip Camera Strap Better Than a Neck Strap?
Camera straps are a very underrated piece of photography equipment. Although many photographers love neck straps, once you experience a neck strap, you'll never go back. The neck strap can cause neck strain, discomfort, and may damage the camera when swayed. On the other hand, a wrist strap helps keep your camera secure and eliminates these problems. It distributes the weight of the camera, preventing wrist and hand fatigue, a game changer for photographers.
Do Professional Photographers Use Hand Grip Camera Straps?
Many professional photographers use Grip camera straps. They are popular with fashion photographers working in photography studios. And you even see sports photographers using wristbands at sporting events.
The added security and control features make them more popular than neckbands in the professional community. While neck straps are ideal for casual shooters, grip straps help professionals achieve higher levels of performance.
Which Hand Grip Camera Strap Is Best for DSLR Cameras?
The Peak Design CL-3 Clutch Camera Strap is a great choice no matter what type of camera you own. But Altura Photo Rapid Fire Grip is the best strap for heavy duty DSLR cameras. It's sturdy and sturdy. And it keeps heavy cameras safely at your fingertips. There is very little risk of dropping it.
Altura photo bracelet is the strongest bracelet. It gives you incredible support for a bracelet. And it can accommodate mirrorless cameras and full-frame DSLRs.
Contact us if you have any questions.
Moreover, Don't forget at VincentColor we provide Real Estate Photo Editing Service only from 0.5$
Website: https://vincentcolor.com
Email1: Contact@vincentcolor.com
Email2: Cs@vincentcolor.com