Real estate photo editing is an essential technique used to improve the quality of real estate photographs. These most popular real estate photo editing techniques are commonly used to enhance the appeal of real estate photos to potential buyers. Let's take a look at some common techniques of real estate photo editing below to have a clear understanding in this field.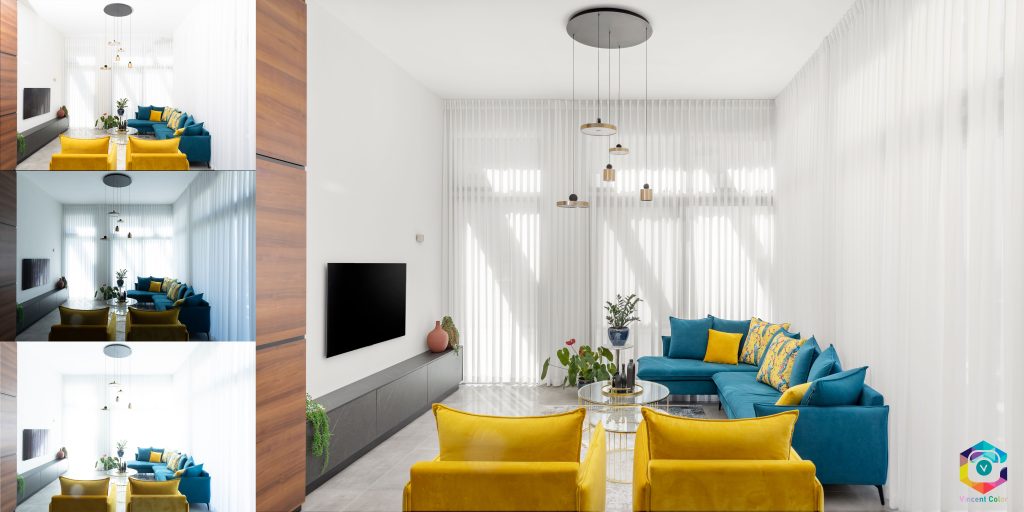 Color correction
Color correction is used to adjust the colors in an image to make them appear more natural and appealing. This can involve adjusting the white balance, saturation, and hue to make the colors look more accurate. Therefore, the original pictures definitely have something to work out in order to satisfy the value customers.  For example, exposure correction, color correction, image density adjustment, minor sharpening, perspective correction, sky changes and photo resizing need taking care in your images.
Image stitching
Nowadays people can easily observe the proposed buildings from any angles of the house. Besides the importance of exterior retouch, Interior retouch also plays a viral role to create a pleasant aesthetic atmosphere which you would like to live and work yourself. Thus, image stitching from several pictures on very large or very high is a great way to make real estate photo more vivid and appealing. In this way, photo montage services can grab people's attention naturally and simply.
Virtual Staging
Has your property with maximize space and beautifully decorate? Virtual staging is very effective to help do it for you. Virtual staging can help to add furniture, decorations, and other items to an empty room to give potential buyers an idea of what the space would look like if it were furnished. This technique also can make the property look more inviting and to help buyers visualize themselves living in the space. 
Sky replacement
People often want outdoor pictures to look dreamy, cozy, and very attractive. However, the weather is not always on our side. Additionally, the atmosphere of a shot cannot be totally ameliorated in this way without the sky retouch. Sky replacement is used to replace a dull or cloudy sky with a more visually appealing one. This technique is used to make the property look more attractive and to give potential buyers a better idea of what the property would look like on a sunny day. Real estate photo editing proves that details play a great role and the background is one of the most imposing details that hooks attention right away. So why don't you invest on the sky retouch sufficiently?
Object removal
This is very sophisticated. Garbage, litter, untidy details are the main factors making your real estate photos messy. Photo shooter reflection is also not welcome. So object removal is a crucial step in the whole process to get the perfect photos.
These are the basic types of property editing techniques. Besides these types, there are a various kinds of editing from basic to advance as well as basing on customer's requirement. If you have any further requirements, let VincentColor help your difficult.
Contact us if you have any questions.
Website: https://vincentcolor.com
Email1: Contact@vincentcolor.com
Email2: Cs@vincentcolor.com