What is an INDD file?
INDD stands for Adobe InDesign Document. This is a proprietary file format created by Adobe Systems and associated with its professional desktop publishing software, Adobe InDesign. This software is widely used by graphic designers, editors and other creative professionals to create complex layouts for various print and digital media.
The INDD file serves as the container for all the design elements in the document, including text, images, fonts, colors, and layout settings. It allows users to work on complex multi-page publications, such as magazines, brochures, books, and even digital content such as ebooks and interactive PDFs.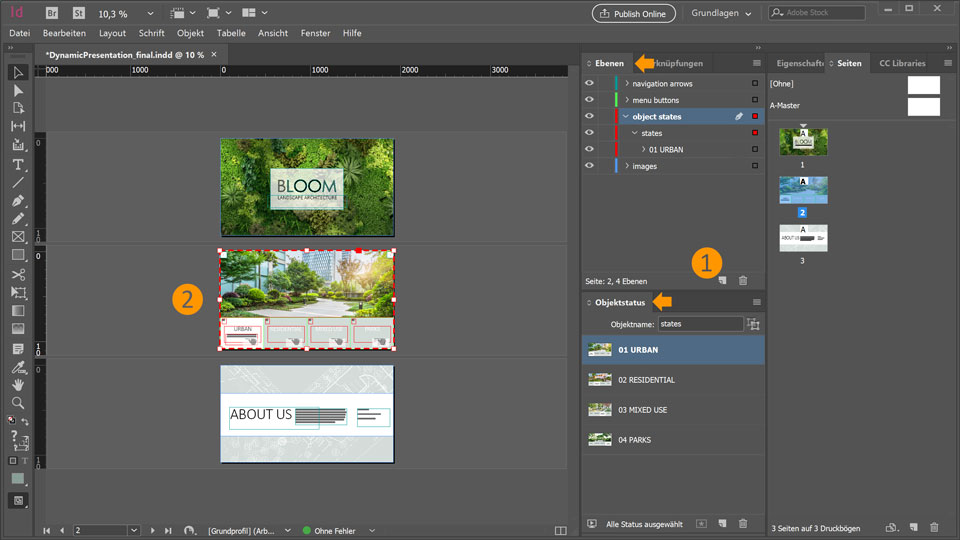 Pros

Cons

It is possible to import images and make them transparent

The characteristics of this format allow you to export it in PDF

You can create tables

Suitable for publishing newspapers and magazines

Proprietary format requiring Adobe InDesign for access.

Limited compatibility with non-InDesign software.

Resource-intensive, demanding powerful hardware.
How to Open an INDD File?
      Paid: Adobe InDesign, QuarkXPress.
      Free: Adobe Bridge CC, ST Thumbnails Explorer.
      Online: Lucidpress, Canva.
Problems with accessing INDD can be of various types. Fortunately, the most common problems can be solved without extensive computer knowledge. In most cases, this takes a few minutes. I have prepared a list of programs that will help you open the INDD file and start working with it. 
Professional Software to Open an INDD File
Adobe InDesign. Adobe InDesign is the main software to work with the INDD file extension. This program allows you to create documents for output on both industrial-type printing machines and desktop printers. Besides, you can export the created documents to various electronic formats. The main feature of this program is that the layout made in the later version cannot be opened in the earlier one.
QuarkXPress. QuarkXPress provides great features for editing INDDs in the WYSIWYG environment. This INDD file editor often used in the publishing industry. It allows you to create and format page layouts of different complexity. It is compatible with both Windows and Mac devices. Individual designers as well as corporations and publishing houses actively use this software.
It works great with both simple and complex page layouts. Large multimedia projects for magazines, books, catalogs, and flyers on one page are created using QuarkXPress. The latest versions of the program also allow you to format the pages of mobile and web applications as well as electronic books.
Free Software to Open an INDD File
Adobe Bridge CC. This software is the flagship product from Adobe created for PC users. This media browser allows you to manage your digital content. You can locate, view and organize files of various formats including video, audio, and images.
Adobe Bridge CC is suitable for work with INDD, PSD, AI, and PDF formats. This software is completely free. If you have a powerful computer, then this program will be a great tool for managing your files. If you use Adobe Bridge free together with Adobe Camera Raw, then you will get almost all the features of paid professional applications.
ST Thumbnails Explorer. This software for opening an INDD file provides ample opportunities for formatting. You can scale thumbnails, drag & drop, use the mirroring and rotation functions, get detailed information about the file such as version, fonts, linked files, keywords and more. The option to copy info and file thumbnail to the clipboard is also available. The basic functions of this software are quite enough, so you do not need to download additional programs or components to edit your INDD files. The system requirements are also minimal.
Open an INDD File Online
Lucidpress. If Adobe InDesign seems a little complicated, then you should pay attention to Lucidpress. This INDD file editor online has an intuitiveinterfacethat simplifies many tasks. Unlike InDesign, you don't need to look for instructions or tutorials to learn how to use its functions. Layouts and interface are easy to understand and use. However, there are some advanced features and they are paid.
Canva. Despite the fact that this software is intended for work with graphic objects, it has enough tools for creating and formatting an INDD file. Many users create posters and flyers with the help of available tools and features.
How to Convert an INDD?
      Desktop: XnConvert, PDFelement.
      Online: Convertio, Online Convert.
Now I will tell you about the programs to convert INDD files. Although this is a rather "capricious" format in terms of conversion, there are several methods you can try.
PDFelement. This is a really efficient PDF converter, which is also helpful if you work with INDDs. You can easily convert an INDD file to PDF and vice versa. This software has excellent security features. You can add watermarks, insert passwords, bookmarks, sign documents, etc.
Convertio. Convertio is an online tool that works in any web browser. You don't need to download or install any software on your device. It supports more than 25600 different conversions between more than 300 different file formats, including an INDD file. All the operations take place in the cloud and don't consume your computer resources.
Contact us if you have any questions.
Moreover, Don't forget at VincentColor we provide Real Estate Photo Editing Service only from 0.5$
Website: https://vincentcolor.com
Email1: Contact@vincentcolor.com
Email2: Cs@vincentcolor.com